WRJ Convention - Day 4
28-Nov-2015 (19:37)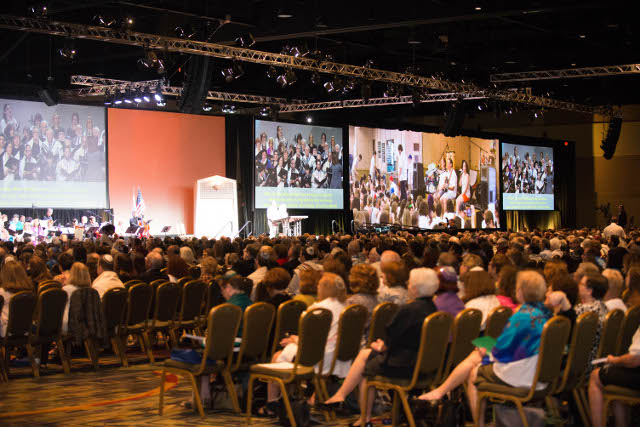 Saturday started with services (we skipped the study breakfasts.) As I said, services with 5000 people are quite impressive. They made good use of the screens during the service - The picture shows the three screens on one side of the podium but only one of the three screens on the left. At the beginning of the Torah reading part of the service, they put an image of a Torah on the center screen and then unrolled it out to both sides across all the screens, so that it spanned the entire room. That was very neat, and I was disappointed that they didn't leave it up longer. During the Torah reading, they used an overhead camera to display the Torah as it was being read. You could watch the reader move the yad across the page. That was very neat too. Unlike last Biennial, where they had a bunch of podiums with Torahs, and they read Torah at each podium, this time they only had one Torah being read. I had liked how they had done multiple Torahs last Biennial, but I was told that they try to change up how they do the services each convention.

Lunch was combined with a workshop. I went to one called "Matterness: Fearless Leadership for a Social World" led by Allison Fine, who wrote "The networked non-profit." Her blog is "A fine blog" (nice pun!) She asked "What do you want to feel when you walk in the door of your synagogue?" - People want to feel like they matter. She said that stories about when you feel like you mattered are often about a single touch and that stories about when you don't feel like you mattered are often about being caught in "the churn." She said that rules are put in place to make things run, and people follow them blindly and that hurts people. She said that organizations should respond to new ideas with "tell me more" rather than "we've never done it that way."

She talked about information distribution - in most organizations, information distribution mostly works on the broadcast model, for example, a once a month newsletter. In this day and age, we need to move to a conversational model. Most non-profits are using social media like a billboard, saying "Look at us!" But this is not customer service; this is not hospitality. She said that serving people well keeps them at a distance - you don't find out their story. The key points in this workshop, make people feel like they matter, listen to them, find out their story, were the same points made in the workshop with Rabbi David Wolman on Thursday afternoon. Ah, but how to do this - that's the question!

Next was the WRJ installation. The choir performed a moving piece, and it was nicely done, but I didn't take notes, and by now installation has just faded into one big blur. After installation, we went to the Kikar and looked at the exhibits and things for sale there.

After dinner, we were supposed to have a havdallah and a Presidential candidates forum. We did have havdallah, but they had had problems with the Presidential candidates forum, so they got Vice-president Joe Biden to talk to us instead. Security was very tight. I had left my netbook in the room so that I wouldn't have a backpack to take through, so I don't have notes on what he said. He was pretty good, but I do remember that at one point he lost his place on the teleprompter and read the same words twice - Oops!

After that was all over, Sue and I briefly checked out the Noam Katz and Galeet Dardashti Concert, but decided we were more interested in the Kumsitz - informal singing. I associate the work "kumsitz" with campfires, but I looked it up and it's really about singing or stories - campfires are just common places to hold one. Unfortunately for me, my voice was only half present due to the song session from the night before, but I did my best to ignore that (and so did the people around me.) It was just lovely. It broke up at 5 minutes to midnight because most of the people leading the singing were in our hotel and needed to catch the bus. We all ended up on the bus together. I mentioned to a couple of the songleaders that I had started a group at my temple where we would meet once a month with a songleader and sing. I mentioned that I used to hold their baby because the songleader's wife would play the drum, and how much I enjoyed holding their baby and singing. The person I was talking to said, "Oh was your songleader Rick Lupert?" "Why yes," I responded, "how did you know?" "Songleader - wife plays drum - it's a small community!"

We rolled into bed, trying not to wake Diane, who had to get up bright and early for a flight back to L.A. Our flight was not until late afternoon, so we got to sleep in, have a late breakfast, and go to Downtown Disney in the morning. At lunchtime Sunday, I wasn't hungry, since we had a late breakfast, so I just ordered a strawberry smoothie at Starbucks. When it arrived, it turned out that what I had ordered wasn't a smoothie at all, but just a strawberry drink. When I commented that the drink was what I had *ordered* but it wasn't what I *wanted*, the person behind the counter offered to make a smoothie instead. I asked if it was the same price, intending to pay the difference, and she said, "no, but don't worry about it." Now that's customer service!

We arrived home on time, tired, but happy. It had been a really excellent convention!